Why I joined the Fuji revolution
26th April 2014
Firstly, can I just say, I love Canon cameras, I loved my full frame (35mm equiv) 5D Mark II and the images I was able to capture using this bastion of Landscape photography. And, now it is gone, I still kind of love it and it hurts. I'm sure if four years ago, when I started this photographic journey in earnest, I had bought into the Nikon system I would feel the same about that brand too, but here I am today, a proud owner of two Fujifilm crop-sensor bodies and a range of lenses that virtually complements what I already had with the Canon…so why make the change?
To understand why, we need to go back about 25 years to the time of teenage growth. Back in those days (about when I was twelve or thirteen) I was a very very slightly overweight kid but an active one. Sure I still had a Commodore 64 (remember those?) and I think I probably chased after several girls in my year at school as well as for an Amiga 500 (which I eventually saved up for and still have…see brand loyalty does count for something), but I also played sports and loved running around with my mates. Playgrounds were for playing footy, or tig (tag), or British Bulldog, which if I look back on now, was pretty brutal. Great days. But then I developed a problem, I found out I had Osgood Schlatters Disease, a rather painful condition affecting the shin and knee. This is where the Patella ligament attaches to the shin. You see when your Tibia starts to grow as a teenager, your ligament isn't particularly strong, and with Osgood Schlatters it gets very painful and swollen. Sometimes, small pieces of bone detach under the ligament and then through healing a callus develops under that ligament eventually causing a large bony bump at the top of the shin. This went on with me repeatedly for about three years. Every time I thought the pain had gone, I'd go out, kick a ball and be back to square one. I effectively had a sick-note from P.E. for that whole time…and I put on weight.
So, how does this all effect my choice of camera system? Well, I have struggled with my weight ever since. At one point I reached 20 stone and then through diet and exercise, including hiking, I managed to get this down to about 14½ stone and I was pretty fit to boot. My knees never fully recovered from my teenage years and it didn't help with being overweight, it was almost catch-22. So, when I got down to my lowest weight I was like a new person, and because I was active and lighter my muscles were strong enough to support my knees so that I didn't feel any pain. I thought I had beaten it for good after all those years. I then got into photography and enjoyed just being in the hills, exploring new places and drinking in breath-taking views. I was using a Canon 40D back then, a substantial camera in its own right, made of magnesium alloy (it has since been replaced by plastic evolutionary models). I started acquiring 'L' series lenses (often quite heavy themselves, they are 'built to last') and I then progressed to the 5D Mark II. I'd typically pair this with a Canon 24-105 F/4 L lens with the combined weight being a shade less than 1.5kg. This wasn't a problem really, because I was lighter and mountain fit. On occasion I'd carry the 5D Mark II and both the 17-40 F/4 L and the 70-200 F/4 L IS lenses rather than the 24-105, with a combined weight of just over 2kg. Then I moved from my usual walking haunt to Solihull, the hiking dried up, I got a little older, I drank a little and ate perhaps a little too much. I still go to the gym 5 times a week, but the weight is creeping up. I'm now 18 stone…quite a fit and strong 18 stone I may add, but the knees are groaning.
I had a plan to get some serious road cycling in this spring, to lean up. But the knees hurt too much to turn the pedals right now and I don't trust my weight on the bike…but what was it that turned some achy knees into quite a lot of pain? A hike and wild camping photography trip up one of the smallest hills (but the one with the most spectacular view – Stac Pollaidh) in Scotland that is what. I've booked on a week-long wild camping and hiking photography trip to Iceland this summer. So, as a practice run I thought I'd do this little wild camp in Scotland. I had to carry my 70 litre pack along with tent for one, sleeping bag, mat, cooking equipment, food, water and spare clothing up 400 metres of ascent and about 2km of walking only…easy. Wrong. The pack was heavy, very heavy…and I was also carrying two camera systems, Canon and Fuji.
Last year I bought into the idea of having a back-up body for my 5D Mark II, especially for a trip of a lifetime to Namibia. I didn't want the 5D Mark II to go wrong out there and not have a back-up. So, I bought a Canon 650D. A fairly lightweight crop-sensor camera that I was able to use all of my lenses with. It proved to be pretty versatile and although the 5d Mark II worked perfectly throughout, I quickly realised the value of having one body with a wide angle lens and one body with a telephoto lens attached during dusty safaris. I used this little camera for the occasional hike last summer and could certainly notice how much lighter my daypack was with it rather than the 5DII. In true terms the weight difference wasn't that great, but it was enough to affect comfort. But there was a problem. I noticed that the image quality from the 650D wasn't quite hitting the mark, it looked a little 'soft', a problem emphasised when viewing images a friend had taken with his Fuji X-E1 which just seemed crisper and richer throughout.
Fuji launched the X-Trans sensor system back in 2012 and it has gradually been growing in popularity ever since. Much to the chagrin of some early adopters, Fuji have become a little infamous for offering lens and cashback deals on purchases of new bodies. In the run-up to Christmas they were offering a free lens when you purchased the X-Pro1 body and 18mm lens. By then the price had come down to less than £1000 too, and so as a way of testing out the X-system as an alternative to Canon, I sold the 650D and bought the X-Pro1 and 18mm and claimed my 'free' 35mm f/1.4. Immediately I was impressed with the image quality coming from the Fuji, especially the rather incredible 35mm lens. I used it on a few walks here and there instead of the 5DII and it was as if I wasn't carrying anything at all, the body and lens combo is easily less than 1kg. It might not seem like much of a difference, but somehow it is. More impressively I noticed that the few landscapes I was taking during what was a very poor winter, did not seem to differ in quality from the full frame 5DII. I managed to experiment with another lens, the budget XC16-50, which for a while proved to be a bit of an achilles heel for the system. It was ok, but I just preferred the quality of the images I would get from the Canon. It was this combination that I used in Scotland on the trip that wrecked my knees. For the first time I was able to perform a direct comparison of Image Quality between the Canon and the Fuji under the same conditions in the field. Understandably for the most part the Canon won. I was using 'L' Series optics on a Full Frame Sensor against the APS-C sized sensor and a budget lens of the Fuji. But, when comparing a shot between the Canon 17-40 and the budget Fuji XC16-50 taken only a few minutes apart, I was struck by a number of things, the resolving power of the Fuji was actually beating the Canon…don't take my word for it, check out the unedited 100% crop images below of the same scene. Shadow detail is better, there is more contrast and Chromatic Aberration between the summit of Suilven and the sky is less on the Fuji. It should be said that the light was a little more dynamic when I took the Canon image, but even so. Both of these images are RAW so there has been no processing in camera. Despite this evidence and my better sense I was still content with the Canon and continued to champion it, on the whole the image quality was better.
Canon 5D Mark II and 17-40 F/4 L Lens at 100% crop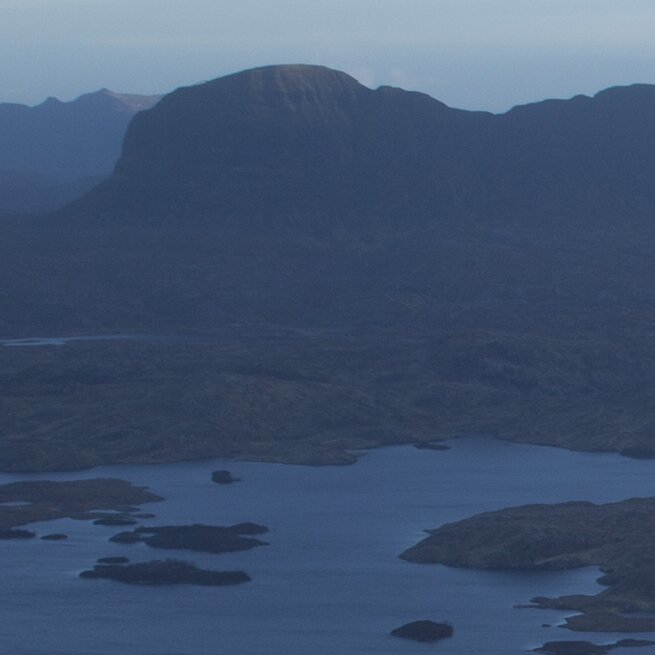 Fujifilm X-Pro1 and Fujinon XC16-50 Lens at 100% crop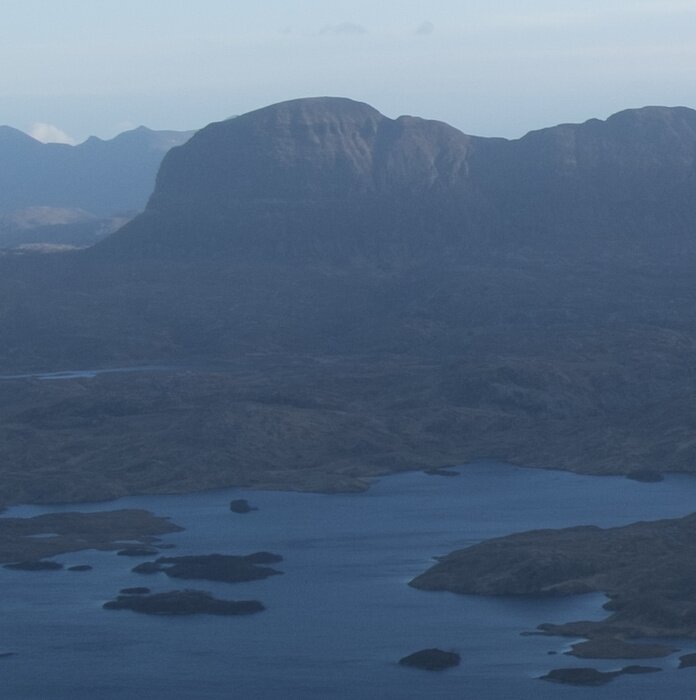 But, despite that, the Fuji was niggling me. You see, the difference wasn't really that great in the grand scheme of things, it was noticeable, but given the advantages offered by the lighter weight and smaller form of the Fuji, did it really matter? I then managed by hook or by crook to get my hands on the much better XF18-55 and the XF55-200 for very little outlay. If I told you how much, I'd have to kill you…another example of Fuji offers, this time combined to great effect. It has to be said though, all these offers are somewhat devaluing the brand. I then had eight days in India to put the whole system to the test, I chose to travel without the 5DII. Well, long story short, I came back with a higher hit-rate of images than I think I would have with the Canon. The image stabilisation of the Fuji lenses seems to work more effectively, I was able to shoot at ISO 3200 with very little noise which is great when visiting temples and forts and street markets at dusk, and I was getting tack-sharp images handheld at 1/10th of a second sometimes a little less…the Canon would have given up at the traditional mark of a fraction of a second equivalent to the focal length, even with their image stabilisation. I loved carrying the little Fuji around and I noticed that I was much better at shooting street candid's than others around me were with much larger DSLRs, simply because people didn't notice it so much.
Back in the UK I used the Fuji on a number of walks and only found myself restricted when I wanted to go ultra wide (I needed the XF10-24 if I was to compete with the 17-40 lens on the full-frame Canon) and on the couple of occasions I decided to walk with the Canon it stayed in my pack on my back, I just didn't feel like going to the effort to get it out and use it. The love affair was all but over, it had effectively been friend-zoned. If I'd had the Fuji, I'd have got it out, I loved it. Time to move on.
So, here I am, I've just sold the 5DII and am in the process of selling off the rest of my Canon kit. This has enabled me to purchase the Fuji X-T1, Fuji's latest and most advance X-System camera. It is almost the dream camera. It's still APS-C, but as noted before, coupled with the right optics, it doesn't seem to lose out to full frame. It has an articulated screen which should come in useful for low level and awkward angle shots. It's weatherproof (a potential major plus if also coupled with soon to be released weatherproof lenses), and it has a rather fantastic electronic viewfinder. What is not to like? I also purchased the optically superb XF10-24mm lens which gives me an effective full frame focal length 2mm wider than I could achieve with my old set-up, and I still have enough funds left over to purchase a professional photo printer up to A2 size so that I can actually print images rather than leave them all languishing on a hard-drive like most people do these days.
So, there you go, there are a number of other reasons why I changed system that I won't go into, I've probably bored you enough already, but let's just say they have nothing to do with jumping on a Fuji bandwagon. These are indeed great little cameras that can easily play with the big boys in the DSLR arena, with the possible exception of the very highest end models. A lot of folks seem to feel the need to justify use of the Fuji system by highlighting the fact that a particular image has been taken with one, but you won't really see that from me, I'd rather let the image itself do the talking, it isn't what I took the image with that might make it impressive, it is the artistic vision of the photographer and his/her method in accomplishing the shot that makes it impressive. Quite frankly, that little black box in your hands has little to do with it…but with the Fuji it might make it a little easier than with the Canon and my knees are grateful for that.
Comments

By Robin:
Good blog article Greg. Now I understand about the knees but you seem to have done pretty well for yourself having only been at school for a year :-) I Like Fuji too, X-e2 at the moment but not ready to give up Canon yet, especially when using grads...

By Paul Chambers:
Great Read Very Interesting I could write the same and replace word canon with Nikon though I have not been to india