Render My RAW - Part 2
09th April 2014
Right, firstly thank you to everyone who "rendered my RAW" and secondly apologies for taking so long to post this. I think the reason for that is I wasn't quite prepared for all of the responses (I expected maybe 2 or 3) and also they left me in a kind of 'no mans land' with regard to my own version of the image. So, although I had an idea of what I might write here, I didn't have the ending. All that changed yesterday during a twitter conversation, but more of that later.
So, how many responses did I get to my request? Sixteen. The power of social media. That may not seem a lot to some folks, but to me, someone who is a relative newcomer, it seems a lot.
Now, if you recall I wasn't happy with my image for a number of reasons, composition, lighting, subject matter, etc, etc. Normally I'd ignore it and move on, but I thought there was a final image in there somewhere I just didn't know if I could find it. Maybe there isn't one in there and if there is it's unlikely to be in my portfolio for example, but it was fun finding out what others might do to the RAW, what annoyed them about it, and how they dealt with it.
Here are some things to consider about the full frame RAW image before any work is performed on it. I see two routes 'through' the image, represented in the pic below by a white line and a black line (excuse the poor drawing skills). Both start from the bottom left along the track and through the open foreground gate. The white line (which is my preferred route) snakes left towards the gate on the left and then right towards the gap in the distant hill, making a pleasing 'S' shape. The problem with this is it is too far to the left of the original frame and the gate in mid-ground appears closed…you have to crash through a solid wall. The black line goes through the open foreground gate and continues through the open mid-ground gate in the centre before ascending the centre hill. This 'should' kind of work for me, but it doesn't, I don't think that hill is strong enough a subject. Secondly we come to balance, and this image is heavily weighted to the right hand side. The big hill on the right (white arrow) is pulling the image down and the bright sky (black arrow) is overly distracting.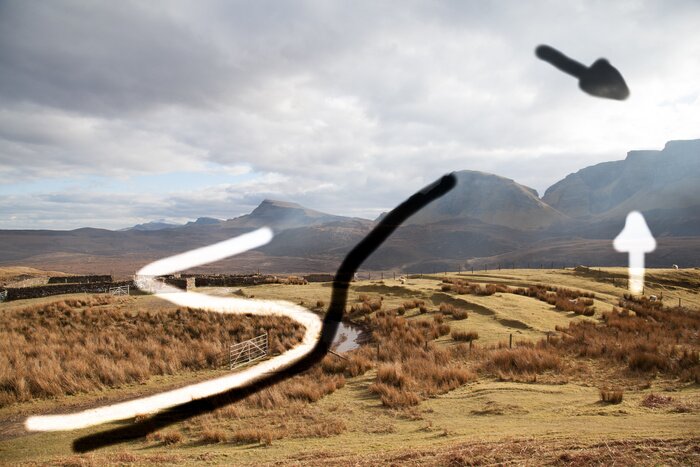 Now, those are the issues I have with the image, let's see what others had to say about it (edited text for clarity here) and how did they edit it. Click their names for a link to their website. It should be noted that this exercise is not a test of individuals artistic vision or technical editing ability, all participants had little time to edit fully.
Andrew Atkinson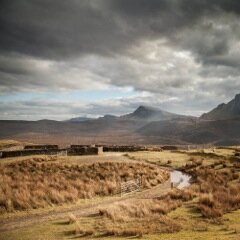 "Did the raw processing in LR with basic crop, Highlights, Shadow etc. adjustment, then inputted into PS6. It took me a while to decide on how to crop to be honest tried 16:9 and 5:4 then went to the trusty 1:1. I went for the square crop as I liked the s shape you get using the track as the bottom of the S. Once in PS6 I added a GRAD ND Filter in Colorfx used Vivesa 2 for some changes to the saturation and dodged and burn in certain areas."
Andy Gray
(No.1)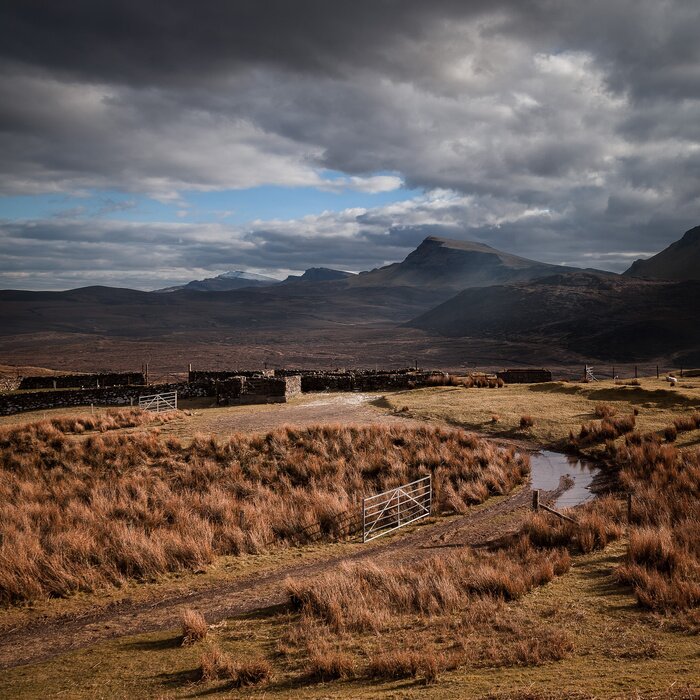 "Square crop - cropped off all the right side as yes the mountain range was interesting, but there was little light on them to allow highlighting. So, concentrated on the cliche "leading you through the image" as we wander along the winding track and follow the base of the range into the distance...
Done in Lightroom, Photoshop, Viveza, Color efex 4, Dfine, Sharpener pro, back to Lightroom for final tweaks."
(No.2)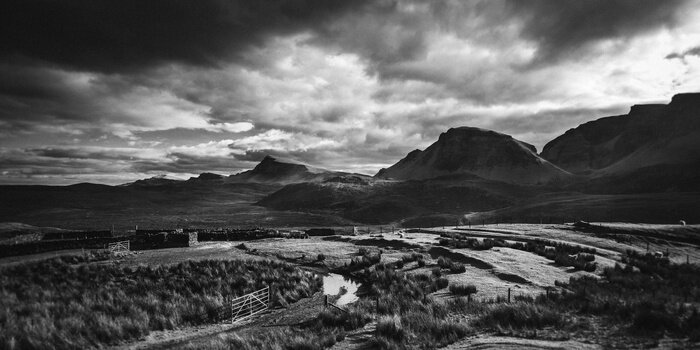 "2:1 crop - More me. Though, I continued finding myself lightening it as I worked on it no matter how dark I intended it being to begin with. All performed in Lightroom."
Charles Spencer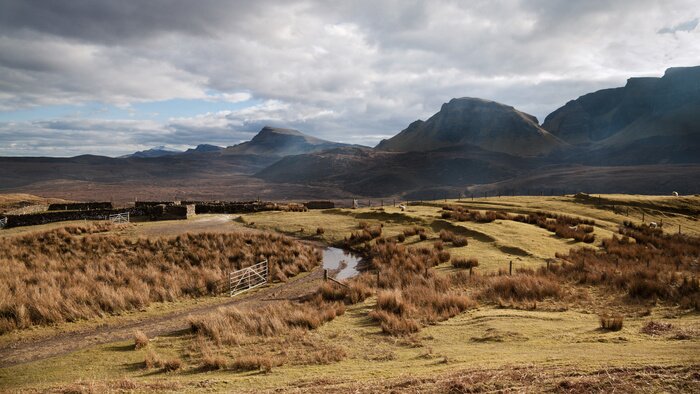 "Loaded into Adobe Camera Raw.
Went through sliders to attempt accurate colour tones, range and contrast.
Kept image fairly cool and natural looking in terms of white balance.
Used Camera Raw Grad tool to bring exposure down on sky and help deal with bright area at top right.
Other minor adjustments in Camera Raw.
Loaded into Photoshop CS5.
Used adjustments highlights/shadows tool to check for lost detail.
Used a bit of clone and brush tool to deal with bright area at top right.
Checked levels and adjusted as required.
Independently adjusted levels on sky to increase cloud contrast. Subtle only.
Some dodge & burn on mountain range.
Reduce saturation in orange/red slightly.
Reduce saturation in sky/clouds.
Other minor adjustments.
Duplicated layer and set to overlay. Used high-pass filter on overlay layer and set to 0.7 to increase sharpness.
Flattened image.
Check composition, settled on wide crop with gate on thirds and horizon on thirds. 16:9."
Colin Bell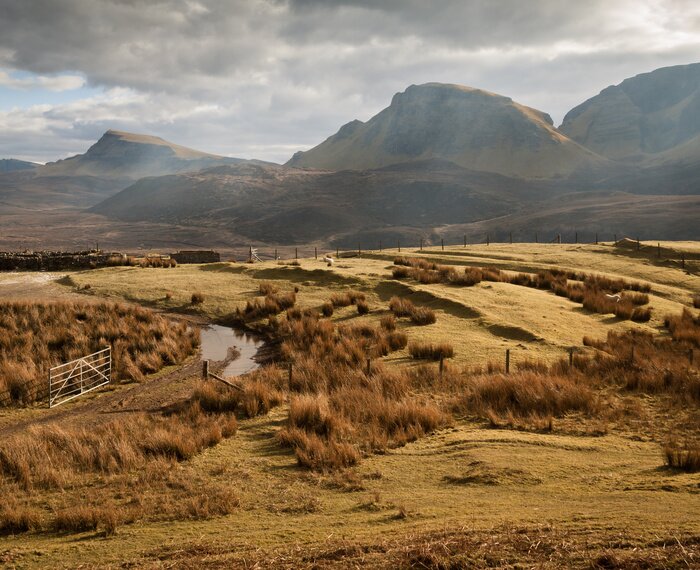 "To my eye, the key features are the two central-ish mountains for the nice subtle light on them, plus the open gates with curved path. The right hand side unbalances the full image for me. I'm left wanting to know what the shape of the far right mountain is rather than appreciating the shapes and light on the two central ones. With regard to my crop, I chose to focus in as much as possible on the central area choosing the crop boundaries to minimise curiosity about what is out of frame. Ideally the image would make more of the nice S curve than my crop does, but I think to include that as a key feature means losing out on the nice light on the right of centre mountain. Other changes were curve adjustments and a software grad on both the sky and the ground to lead the viewer through. A little extra contrast and warmth applied to the light on the tops of the mountains via the brush tool. Standard lens profiling and a tiny bit of noise reduction with a smidgeon of sharpening although heavily masked to just include the edges. Edited in Lightroom 5."
Lizzie Shepherd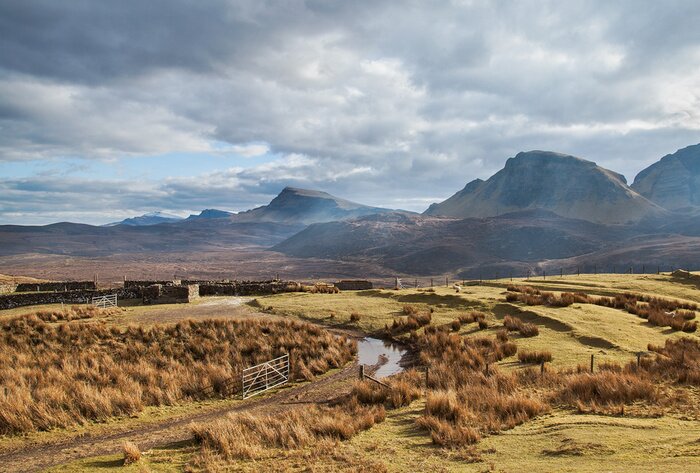 "I didn't spend that long on it so not fine tuned but it's got roughly the look I would go for based on what I could see in the raw file. Two caveats - one, I wasn't there (obviously!) and two, I've never owned a 5Dii so am unsure about how it handles colour, light, etc - makes quite a difference in my experience - certainly the original 5D and 1DS3 were very different indeed. But it's probably not too far off….
Didn't actually want to crop out the right-hand mountains but the bright bit of sky was bugging me so decided to go for it regardless - the important thing was to keep that nice S bend prominent in there for my eyes…"
Mat Robinson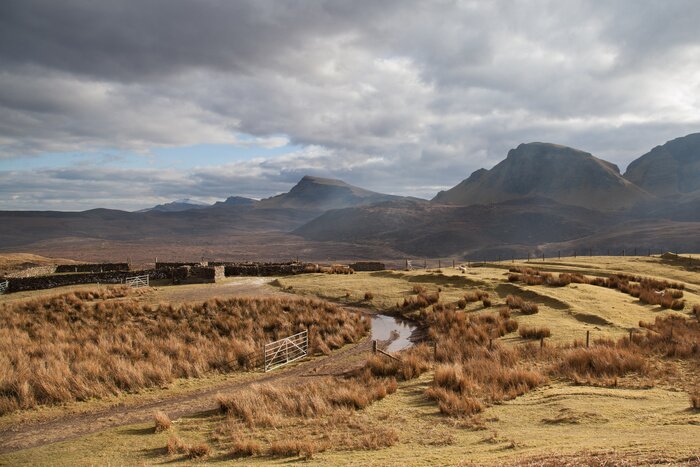 "First I wanted to pull the highlights back a bit, along with bringing the exposure down a wee bit overall too - largely just so I could better see the detail in as many areas as possible to decide what to do with it. Then I added a graduated filter to increase the contrast in the sky, darken the mountains and brighten the foreground back up again. The vibrance and clarity were both nudged up a little too - overall. Then sharpening, slightly, and increasing the contrast overall.
I thought the crop made sense as it got rid of a tricky bit of sky top-right. It was just overexposed enough for me to not like it and think maybe I should blow it out more and make it look more like a real burst of sunlight, but not also just not-overexposed enough for me to think I could bring it in and keep the detail there. So in the end, I thought a crop took that question away whilst losing nothing from the rest of the image. I always prefer a 3:2 ratio for landscapes and think I found a nice clean line to crop along the bottom that doesn't cut through any regions of grass. I quite liked how the road leads from the bottom corner right into the middle of the frame now too.
I finally went over to GIMP and used a tone-mapping plugin on an additional layer which I then masked to about 10% which made the foreground a little better for my liking.
And... after all that, it looks like I hardly did owt to it! I don't know why I bother sometimes!"
Michael Marten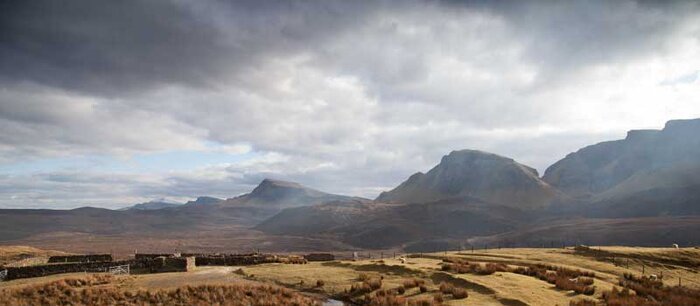 I was trying to do was get away from the confusion over the path and the lead in, which had the wall and so on and tried to focus on the shapes of the mountains in contrast to the plain. The darkened clouds (I adding an ND) were intended to make layers of light and dark - four of them in total. Essentially I wanted to focus on the light/dark elements, and tones.
Mike Murray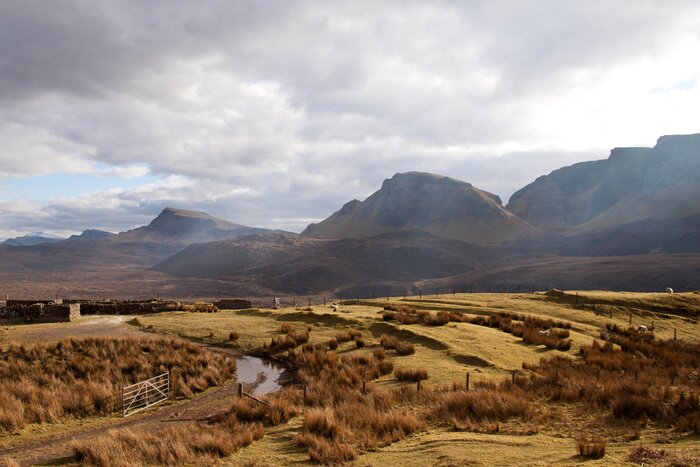 "Found the line between the gates took my eyes wandering off to the left - cropped out the small gate second gate and to me the first gate now leads me in nicely into the farm and mountains."
Nigel Morton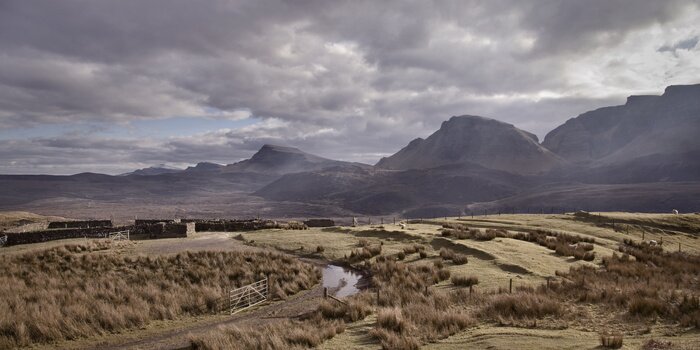 No editing details provided.
Pete Bridgwood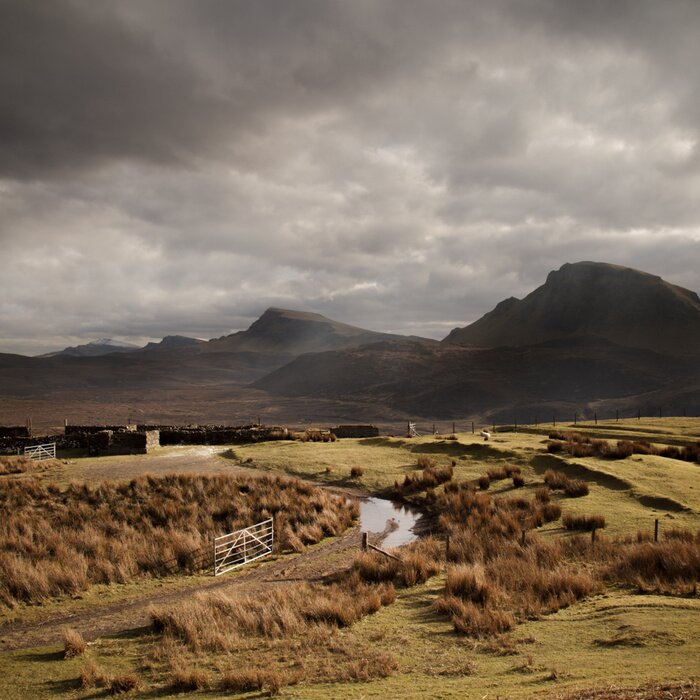 No editing details provided.
Richard Earney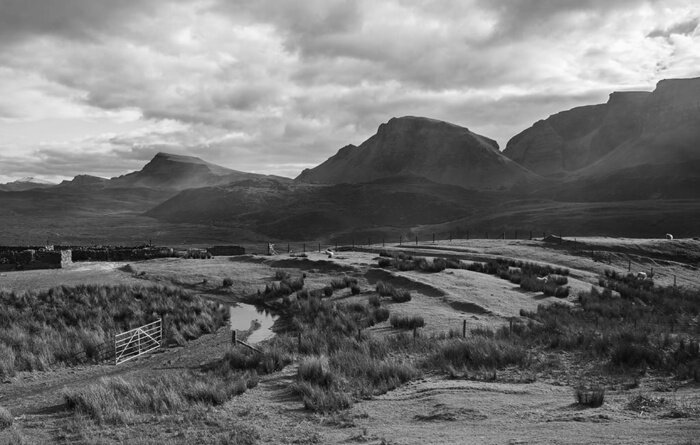 No editing details provided.
Richard Hurst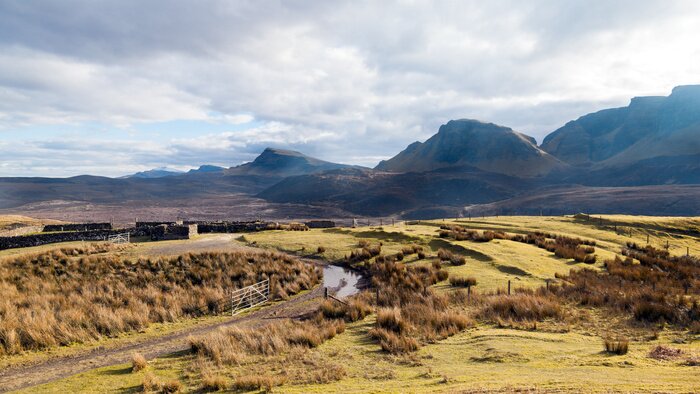 No editing details provided.
Richard Thomas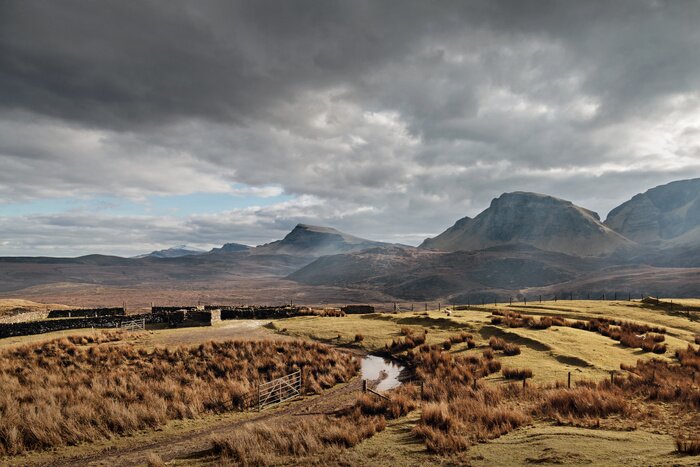 "Opened my ACR, profiled for the lens, changed to Camera faithful, adjusted tones and levels and added a slight grad to the sky and foreground, then up the contrast and dropped the saturation on the yellows.
Then opened in Photoshop CC, fiddled with the curve on separate layers a couple of times erasing sections I didn't want adjusted, cloned out the spot in the sky and one tiny bright spot next to the puddle, dodged the puddle a bit and burnt the chalk stones in the wall on the left, then sorted those gates out :-)
As a rule I generally try and keep a landscape shot to how it was when I was there, albeit it giving them some contrast, therefore I've judged the clouds on how you'd done your original you posted on Twitter as you were the one there."
Robin Hudson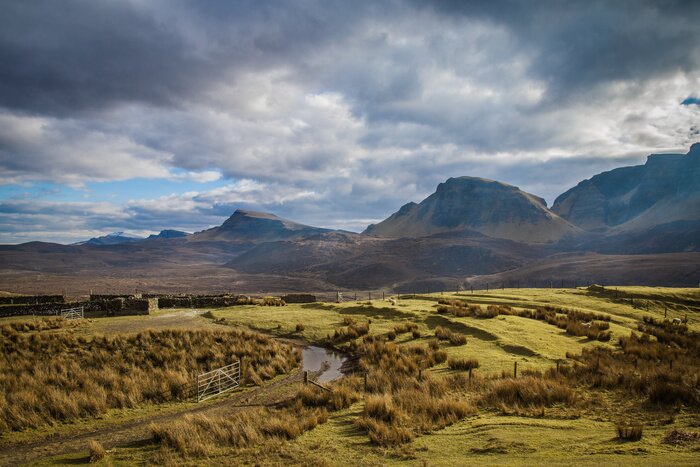 No editing details provided.
Sean Goswell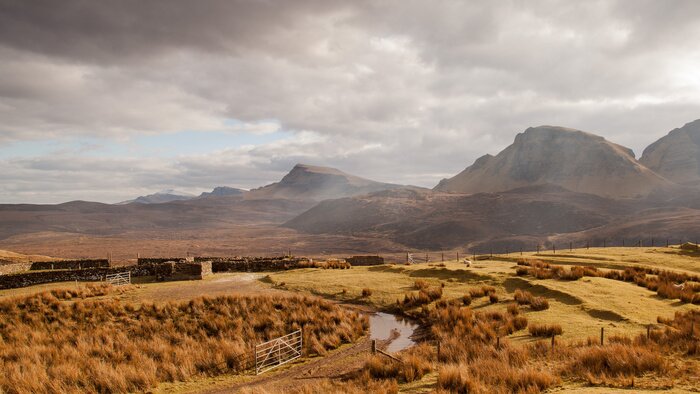 No editing details provided
Valda Bailey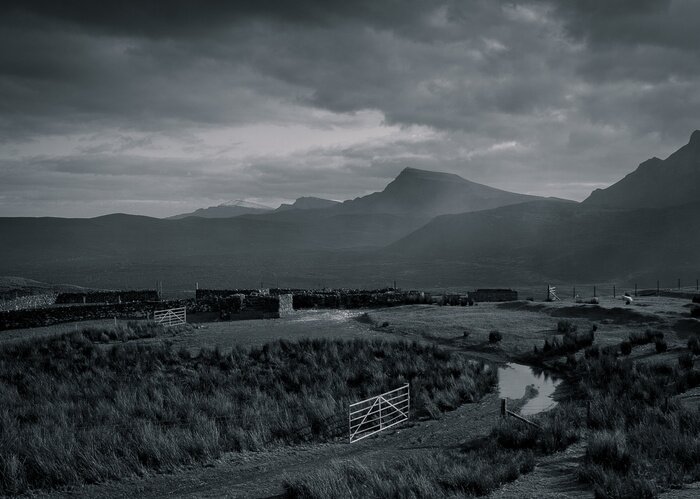 "I love the image but felt there were too many foreground elements competing for my attention. And, as I said, it's all about the gates for me."
Conclusion...almost
So, there you go, it is interesting to see what each of these photographers, both professional and enthusiast, made of my image with some wild and not so wild variations. It is also interesting to note that the majority of them had the same thoughts as me, about the mountain on the right and the 'S' curve leading the eye through and how they tackled those problems. However, for all of this 'assistance' (I shall call it that) I still couldn't crack the original problem I had with it, it just didn't work for me and perhaps that was how it was meant to be, not every photo does work and certainly not those which you snatched at given a few moments on a roadside. Each of the edits above have their merits and I leave it up to you to decide whether they work or not.
...nearly the end
Here we are several months later and I never thought I would complete this blog, I just didn't have an ending, a finished product, I was on the verge of giving in, posting this unfinished and deleting the shot from my library, until today (or rather yesterday).
Over recent months I've noticed a massive shift in my focus towards the dark, the moody, the mysterious. I find images of that ilk far more engaging than bright 'happy' images, especially in landscapes…seriously how many folks are fans of blue sky photography? Therefore, a lot of my post-processing recently has included a deliberate practice of darkening the mood. Scenes that were otherwise just dull have been given life by deliberate manipulation of contrast, clarity, selective colour adjustments, etc, etc, all to create a more menacing atmosphere. Coupled with that though has been a desire to intensify light, to create a clearer line between light and dark. It was a conversation about images being too dark that gave me a jolt that made me eventually realise what was wrong with this image, at least in my mind. Some of the edits above touched on it, they've been processed to be dark and moody, but I did not get it at the time. And so, I revisited the shot and edited it again using similar techniques that I have been using most recently.
I should perhaps point out at this stage that although I have Photoshop CC, I really have no idea how to use it (yet) and I'm not one to use plug-in's in Lightroom, so all of these adjustments are just from Lightroom 5 itself.
The Final Image
Cropped to remove the large mountain on the right and leave a hint of bright sky. Applied S curve to tone map. Cloned out patch of blue sky. Increased exposure overall by about 2 stops. Applied radial filter in arc over foreground and inverted it, reduced exposure outside filter and increased clarity. Applied further grad filter to sky to darken and added contrast. Used adjustment brush over whole background, reduced exposure and increased contrast. Reduced vibrance over whole image to -50, selectively increased saturation of red, orange and yellow colour channels and increased colour temp. Finally, reduced colour temp of sky graduated filter. Then applied some minor local adjustments to some shadows and highlights.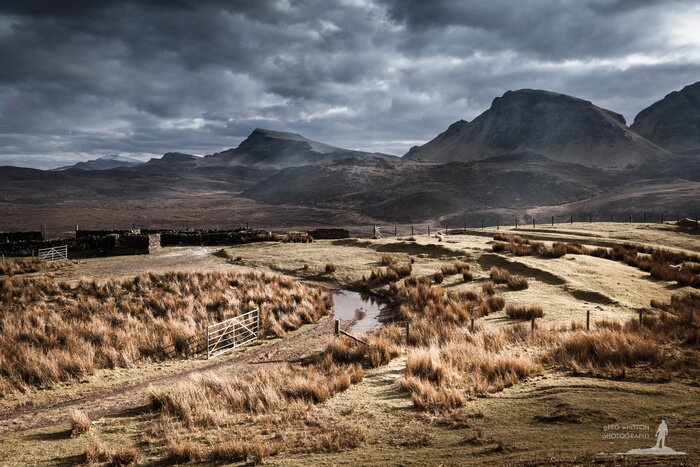 The result, I think, gives the impression of a dark forbidding landscape that has for the briefest of moments been relieved of the darkness by a strong shaft of sunlight that will last mere moments before it is plunged back into darkness.
It's not perfect, it is surely not everyone's cup of tea, and like I said before, it probably is not a portfolio shot, but I quite like it now, it's ok and I feel I can move on to other imagery without this at the back of my mind.
Thanks again to everyone who contributed.