Render My RAW - Part 1
21st January 2014
In March last year I was fortunate enough to spend some time in Scotland with some friends. We rented a house in Fort William for a week and rather than use the time to hit the big hills, which if you knew me well you'd know would be usual of me at least in part, I took the opportunity to focus more on photography. One of my friends, Paul (
@PaulDKirby
), also has a serious interest in photography and this was as much a photography trip for him as it was for me. Most days included some form of photoshoot somewhere within a one hour drive, we even managed to squeeze in a day skiing at the Nevis Range, but on the second to last day we decided to get up super early and drive the 2.5 hours to Elgol on the Isle of Skye. There were supposed to be some light clouds to the West and a clear sky to the East. The hope was that we could capture a wonderful sunrise on the Black Cuillin which were still covered in snow and get some lovely pink colours in the clouds. Well, the sky was clear, too clear. There wasn't a single cloud in the sky, which was kind of nice if you wanted to bask in the sunshine, unfortunately it meant I didn't get the shot I had in mind and so we, I especially, left Elgol a little disappointed I think. We travelled around to the other side of the Cuillin and spent a long part of the day in Glen Brittle at the fairy pools, by which time the cloud had rolled in. It was here that i…well, let's fast forward a little otherwise this will take an age to get through.
Late in the day we headed North past the Old Man of Storr towards the Northern end of the Trotternish Ridge, specifically to a geological feature called the Quiraing, a rather large millennial old landslip that is still moving today, a place I had not previously visited. As we approached the turn off from the main road, we could see that the local rangers were burning heather and the smoke was being blown towards the escarpment creating a rather cool misty effect in the occasional shafts of sunlight that were peppering the landscape. Keen to capture this we drove very slowly up that road trying to find a composition from the roadside but everything was conspiring against us. The smoke was dying out, the cloud was thickening thus blocking the Sun more and the landscape was, well, quite empty. There was nothing immediately obvious to make foreground interest. A lot of the landscape in this type of area is covered with old dry-stone walls and the odd sheepfold, but even they were proving to be elusive, and then like our minds were being read, we came across what appeared to be some sheepfolds that were being lit up by the late afternoon sunshine. Stopping the car we both grabbed our cameras (no time for tripod and filters, etc) and I ran back down the road to be in line with a track and a gate that ran towards the distant hills. Of course, by the time I got there, the cloud had covered the Sun. I didn't even fire a shot. Walking back to the car rather annoyed at myself for not having trained harder at the gym, the Sun briefly appeared again. Not quite in the spot I wanted to be, but eager to capture the light a least where I wanted it to be, I took the shot, handheld and without really thinking. Instinctive Aiming, I believe it is called, when you just raise your gun or bow (or in this case camera) and shoot without properly aiming down the sight. More often than not you'll hit your target. The result was this (unprocessed RAW, jpg conversion):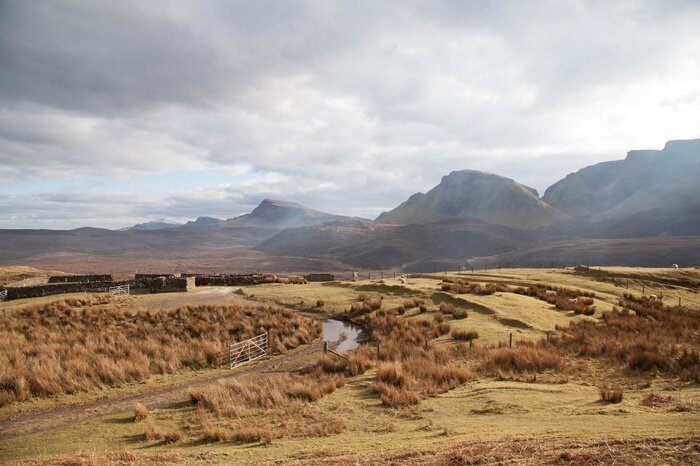 Let's fast forward 10 months or so. I've tried to work on this image for months, briefly returning to it as and when I'm in the mood to have a play with some images. I've always felt there was an image to be made here, I don't know why, I've just felt it, or maybe I've just wanted to believe there is an image that works here.
So, what is wrong with it? Well my thoughts. I'm standing in the wrong place for a start. I was originally standing about 10 metres further to the left and slightly lower so the track was a much stronger lead in line. The problem with that though was the gate was more end-on and so less of a feature. I like that gate, even if it is metal. I would have been shooting at an angle that would have included more of the ridge on the right hand side, this may have balanced it a little. As it is, it is too heavy on the right hand side. But, the major problem would have been the Sun, it would have been super-bright on the right hand side, rather than just bright as it is now. I would have been shooting into the light almost certainly. So, maybe by moving I might not be standing in the place I wanted to be, but the elements are at least almost working for me where I am. Because of that, I just haven't been happy with any of the edits I've created over the months. I've cropped it here and there, added filters in post-processing (using Lightroom), done all sorts, and still I've not been happy with it. Perhaps I should just face up to the fact that it won't work no matter what I do to it. "You can't polish a turd" I think the saying goes. I'm normally a firm believer that the final image should be obvious from the RAW, i.e. I should be able to imagine what the final image should be before I even get the unprocessed RAW off the card and onto my PC. I just can't imagine that with this particular image, and it is frustrating, very frustrating, but for some reason I've just not been willing to let it go.
A couple of weeks ago I thought I'd have one last look, so I played with it again. I guess I got it to maybe 75% of what I wanted it to be. It was then I thought I'd seek some advice on Twitter from some of the rather helpful photographers who inhabit that ether. I posted my "75%" image and asked them to "Rip It Apart". I started to get a quite decent response, some crop suggestions, some suggestions about the gate, the middle ground lacking contrast, etc. I think someone then asked if they could have a play with it and it was at that point my mind turned to
Pete Bridgwood
. Last year, Pete posted one of his images, of Rhue Lighthouse and asked people to "Render my RAW". Lots of folks took his unprocessed RAW image and processed it in their styles with their vision. Some of the final versions were quite remarkable. You can read his blog on the subject
here
. Anyway, I thought why not? So, I posted my unprocessed RAW and asked folks to "Render" it to make it work…if it could work at all.
In Part 2 of this blog I'll post the responses of the kind folks who played with my RAW image to see what they chose to do with them!