Melancholy Mutterings
11th December 2014
It would be fair to say that most if not all photographers, both professional and enthusiast, go through periods of self-doubt and reflection. These periods can be quite depressing and they seem to come and go as often as the seasons. I am no different.
I have very recently been through a long period of self-doubt or melancholy, as anybody who follows me on social media may attest. I try to keep these things lighthearted on the outside but on the inside I'm really struggling. Several times over the last few months I've seriously thought about just selling all the photography equipment and just move on to something else. I'm not lying in my Twitter bio, I really am a "Jack of all trades, master of none". The problem is whilst I love learning something new, a new skill, I lack the absolute dedication, the selfishness required to really master it. It's that way with photography too, I know deep down I'll never fully master it, perhaps nobody ever does, but because of that I lose interest or something else happens.
I can trace this particular period of melancholy back to my trip to Iceland in July, in fact to a single moment. Having trekked through volcanic desert, over snow and ice, past raging rivers, etc, for six whole days, carrying everything we needed including food (of which you can never carry enough as you need), it's safe to say I was quite exhausted. Up until this point we'd only had one spectacular morning of light producing some fantastic photographic opportunities. Unfortunately on that morning I had allowed myself to get a little bit too cold, I started making mistakes and when I realised I had shot for a whole half an hour, some 20-30 images of the ever changing conditions in manual focus, without refocusing (i.e. I now had 20-30 out of focus shots), I retired to the tent to warm up and fell asleep. The others continued shooting and got some fantastic images...I didn't. Sometime on day four or five, the leader of the expedition, Alex, asked me, "if you were to go home now would you be satisfied with your images?". I had to reply "no".
Fast forward to day six, which was to be our last wild camp on a minor hill overlooking some spectacular scenery. We pitched the tents and one by one ascended a slightly higher (but steep) hill adjacent to the camp. The sun was shining, it was warm, and there was a lovely soft bed of moss across the summit. Clouds were strafing the skies, dark and brooding to the west, light and fluffy to the east, we were in no mans land. Perfect. I shot quite a few images into the evening and then the heavy cloud rolled across. Alex and Neil had descended which left Matt and I at the top. About half an hour passed and it looked like that was it. I decided to descend to camp. I had captured some nice images that day, but I hadn't managed to get a defining image for the trip. If I recall, I was a bit annoyed...bloody typical. In my walking group I have a nickname, 'Washout Whitton' they call me. When it comes to weather I am a liability, this is one of the reasons I often return from photography trips disappointed. I do chase bad conditions on purpose, unfortunately nine times out of ten I end up chasing the wrong bad conditions and get flat grey and not much else. That evening in Iceland, I had at least got some dynamic light, just not the dynamic light I wanted.
About five minutes later, having descended about 50 metres, something amazing and unexpected started to happen. A small break in the cloud together with the changing azimuth of the Sun began to combine. The landscape began to turn golden, not just your typical golden hour light either, this was incredible, the landscape was glowing. Realising I only had minutes, I had to make do with the location where I was standing. Alex was rapidly ascending to join me too, and getting very excited. Ideally we'd have still been at the top with Matt, all set up, ready to shoot. There was no chance to use filters, it was a case of tripod, turn on, bracket, shoot, recompose, shoot, recompose, shoot.
And this is when the melancholy began
. This was perhaps the most spectacular moment in my photographic lifetime (at least I can be thankful the battery wasn't flat). Foreground composition was ok, not great, but ok. The vista was spectacular. However, I hadn't removed the UV filter (I was using them for protection in Iceland as the volcanic dust is very abrasive). Even with a fairly expensive UV filter, pointing the lens anywhere close to the sun resulted in horrible blotching in the image, a kind of extrapolated lens flare...and then there was lens flare itself. I also didn't vary the composition too much, and largely ignored the right hand part of the scene (there was another mountain there). So, there it was, a shot of a lifetime, probably ruined.
Back at home and loaded into Lightroom I naturally went straight for the small selection of images that had the most intense light, it was like catnip. I ignored those that had 'building' light. I was disappointed. The best image I could see had some flare at the side, although in the context it was a pleasing effect. I was able to pull the highlights back, but unfortunately what I didn't realise at the time of shooting was that it was raining. There were streaks of rain covering the image. With a steady hand in lightroom and some creative cloning I managed to make the best of the image and it was ok. Well, I lie, I really liked it. But it wasn't perfect. Most feedback I have received on social media has suggested it's my best shot of the trip. I just saw it as a failure. Like I said, I'll probably never again get all those weather elements to combine in such a spectacular setting, and I'd in essence cocked it up. Here it is.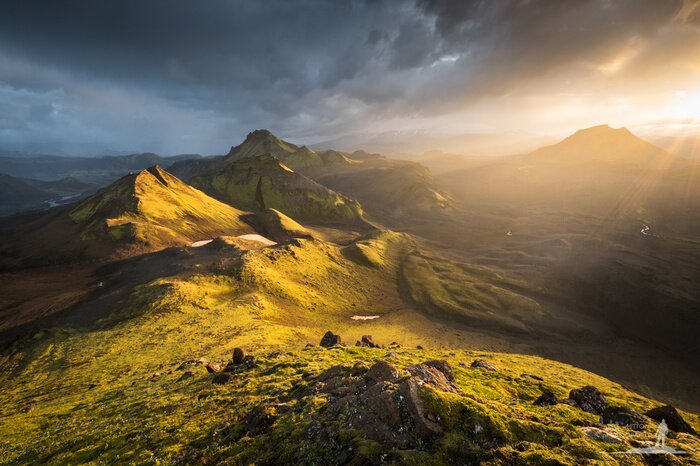 Iceland: End of Days
So, for the last five months or so, whilst I've been seeing some wonderful autumnal imagery produced by fellow photographers, I've been locked in a cycle of photographic depression. Everything I've photographed since that day in Iceland has seemed, well, a bit 'meh'. Solihull struggles to compete with the Iceland. My trip to the Lakes was a washout...again. My trip to Snowdonia was a washout...again. Several trips to the Peak District have resulted in walking in cloud or under flat grey. I did take an image of a bird that people seemed to like...maybe I should show them the unprocessed shot.
And then it was competition time.
There are lots of competitions closing around this time of year and one in particular I would dearly love to win. The Outdoor Photographer of the Year. I don't know about anyone else, but when I submit images into competitions, I tend to reprocess them. I figure I'm learning all the time, so surely if I reprocess an image from six months ago, chances are I'll do a better job of it than I did last time. Also, competitions tend to restrict what you can and can't do to an image. Six months after the event I can't remember what I did to it typically, and although Lightroom tells you, I prefer to remember by being hands on. Knowing I wanted to do a better job with that Iceland image, I returned to it in Lightroom and had a play. Nothing. I had done just about everything I could with it. But now, thinking freshly about the scene and with a bit less emotion, I looked at some of the earlier shots, taken a few minutes before. Typically when reviewing images for potential I grab the exposure slider, flick it left and then flick it right. It's a process that takes 2 seconds, but in those 2 seconds I can determine potential for highlight and shadow recovery, artefacting and colour. As long as the image is in focus, it could be a go'er...and there was one. Some of the more obvious highlights were blown in the sky (it's the frickin Sun, what do you expect?) and would need some TLC, but other than that it was nigh on perfect. Funny, I had the image I'd wanted, I just didn't know it. Here it is.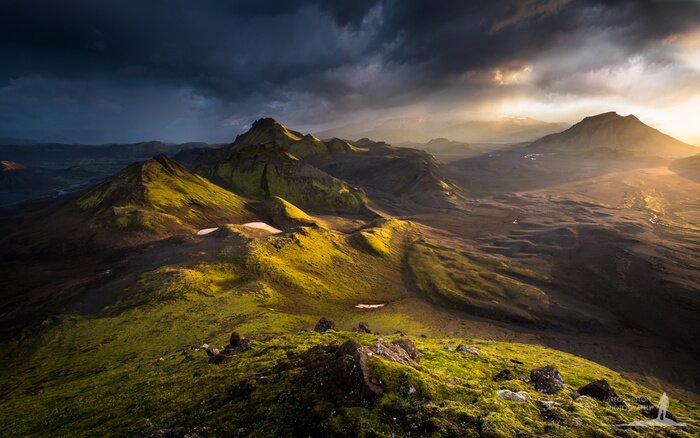 Iceland: End of Time
So, the point of all this is? Photography is a learning process, and not just the technicals, it's also about learning to control your attitude, your emotion. I've just spent five months lamenting over a major missed opportunity. I had failed to achieve the standards I had artificially set for myself. In the moment, I'd cocked up...or so I had thought. I've been hanging my whole attitude towards photography on that one pivotal moment. That is crazy. True, Iceland was spectacular and although conditions were not the best, they were far from what they could have been. I came home with quite a collection of images, and having given it time the image I really wanted in my head. I do need to stop lamenting on what could have been and focus on what is. I need to try to get the best out of that. If I travel to the Lakes or to Scotland or wherever and come back having had little or no fantastic light to bolster my images, I need to concentrate on coming back with something equally as good if not better because of it, stronger composition, more creative thinking. I need to do this, so that when those rare moments of splendor do arrive unexpectedly I can perform at 100% and get that image right. Put it simply, I can't afford to be a Jack of all Trades, it's not good for my mental state, not if I'm going to continue to photograph things, I need to shoot the mundane to excel when it counts.
Comments

By Terry:
Hi Greg, I think we all go through times like this, at least I do and have, but its from these experiences i think we grow as photographers, if you only had one image from the trip ( and i know. You have many more ) this is one to be proud of, and wish I had taken it.. Dont be too hard on yourself and just except as part of your own development. :) Terry

By Colin:
A fascinating read Greg, my mind doesn't work fast enough to give you an articulate response just yet. Whilst I have not ever done anything even in the same ball park intensity as your Iceland trip I can relate to a lot of what is said here. My response to consistent disappointment was to invoke an attitude of low expectation, by which I just mean that I would not endeavour to make a 'killer' image. By focusing on a longer term goal of getting to know a particular area (in my case Thirlmere), ignoring weather forecasts and just going out whatever (within some reason) I found that my peaks and troughs flattened. That said, I'm going through a reflective phase now with regard to that project to evaluate where its going. Funny thing is though that on this occasion you did indeed produce a fabulous image, alongside some really excellent series of landscape work that I've seen on Behance. Periods of introspection like this lead to self improvement, you should be pleased that you're thinking this way imo as it will, I'm sure, drive you on.

By blakmountphoto:
any fool can take a photo but its takes a massive investment of time to understand a landscape and only then will you produce your best work

By Christian Grammer:
Well written, heartfelt and gratifyingly open Greg. I think all reading this will appreciate your honesty. It also puts quite succinctly something that occurs to many of us in either our leisure pursuits and/or professional lives. For what it's worth (and I'm barely even an amatuer yet),I saw this image before coming across your written piece, and it stood out to me as exceptional in many ways. With the story behind, it has gained context, which invariably enriches anything. Words, musical notes, paintings etc., etc. Cheers, Christian