Beer and Burning Barrels
10th November 2011
Last Weekend myself and a small group of friends hired a cottage in the lovely seaside village of Beer in Devon. If you ever get the chance to visit, do so, rarely do you find such charming villages these days, although I suspect that in Summer it can get quite crowded.
We descended on Beer to use it as a base to attend and experience the annual Burning Tar Barrels event in Ottery St. Mary a few miles away...more on that a little later though. The weather conditions were very favourable that Weekend for a spot of photography, so I made sure I got up bright and early on Saturday for a mad dash across Dorset to capture Corfe Castle at dawn. Needless to say, as it began to get light, and as I drove further East, the cloud beckoned. As such, by the time I got there (it was a 60 mile trip!) the cloud had destroyed any chance of a Sunrise shot, I had to make do with a moody shot with a little mist licking the tops of the hill behind...hardly inspiring. Mind you, after downloading the images I took, and converting one to Black & White, I quite like the result. It is now in my 'England' portfolio with the title of "History Ruined".
Heading back West, would you believe it, the cloud lifted and eventually cleared to leave Beer in bright sunshine, I should have stayed there instead! Anyway, joining the others and after some breakfast, we headed out to enjoy the village and do a short walk across the clifftops to Branscome. The cliffs between Beer and Branscombe are the most Westerly chalk cliffs England, and are quite an impressive sight in the right light. That brings me on to being in the wrong place (Branscombe) at the wrong time (late afternoon). Seeing that the light was going to be really good for a sunset, I needed to get back to the house to collect my camera gear and find a location for a shoot. Leaving the others, Dan and I set about the route home at breakneck speed (Dan, not interested in Photography, more interested in Final Score on TV!). Needless to say, we got back before dark, but it was touch and go whether I got to my chosen location or not.
When I first lived in Yeovil at the end of the 90's I used to deliver paper as a White Van man to various print works and stationers. Having to stop for lunch one day I found the small village of Seatown, tucked away off the A35, and have loved it there ever since. There isn't much there, except a few houses, a popular pub, and a long beach, but do you really need anything else? Well, I knew that was where I wanted to go and I got there just as the Sun was touching the horizon...not ideal. Luckily I spotted a rather interesting rock close to the lapping sea, and managed to get my camera on the tripod and filters attached before the Sun had disappeared. I knew that wouldn't be THE shot, but I like to capture the Sun anyway. No, the best shots of Sunset generally occur about 20-30 minutes after the Sun dips below the horizon as the colours in the sky deepen. Despite concentrating a little too much on what the sky was doing, and not paying attention to a rather large wave which narrowly avoided soaking my camera, I did manage to get the image below...I like it.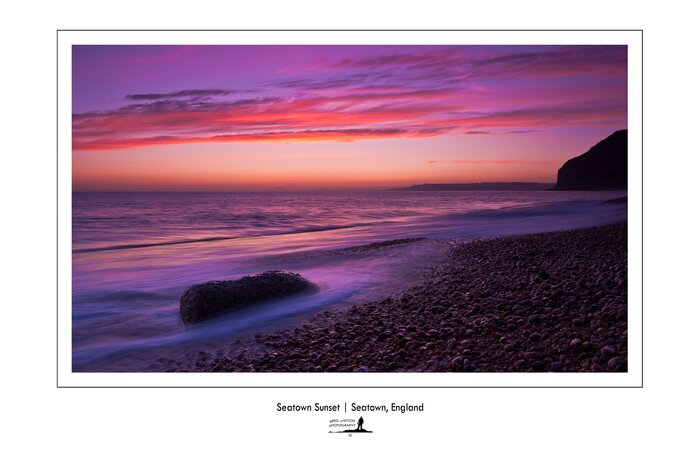 Next, it was the burning barrels!
This was a curious evening, one that started with some excitement, then turned into about 2 hours of boredom, followed by a good hour of crazy antics in a packed square and Chris wailing like a banshee! The basic premise of this event is a bunch of barrels that are lined with tar and set alight, then you get a few bored locals to don some fireproof mitts and carry them on their shoulders through crowds of thousands of screaming drunken revellers. We saw one barrel as soon as we got there, and completely failed to find any more in the whole village for the next 2 hours...by which time we were cold and generally sobering up. Eventually, feeling the need to get 'stuck in' at some point, we found ourselves in the middle of the main square, where the majority of the barrels are lit, and being pushed from pillar to post by throngs of screaming muppets...I guess we ended up being screaming muppets too. Needless to say, it's quite dangerous, but boy, when a 250lb bloke with an inferno on his back comes blindly charging towards you, giving you a mere second or two to decide which way you are going to jump to get out of the way, it is actually quite exhilerating!
The image below is one of the said large fellows carrying such a barrel on his shoulders...somehow they don't get burned!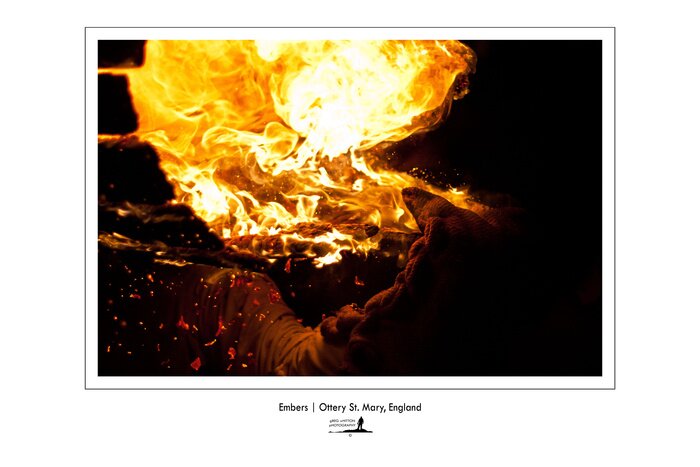 The following day was gorgeous, I can't remember the last ime I've sat on a beach in November and it's been almost warm enough for a T-Shirt. Hurrah for England!
All images from the Weekend can be found in my 'England' portfolio, named History Ruined, Embers, Seatown Sunset, Axmouth Harbour, and Beer Beach