Assynt, Kintail and Mhor
20th May 2012
It's been a long time since I've been able to add anything to the blog. Christmas got in the way, and then work took over my life for what seemed like an eternity. Lisa and I also got engaged, the Wedding will be in October, so we've been somewhat preoccupied. My own photography has had to take a backseat to finding a photographer for the Wedding...and I must say there are some superb photographers out there, REALLY superb. It took us 4 months to decide simply because I was probably being overly critical about every last detail of potential candidates portfolios! Who am I, David Bailey? Colin Prior? Joe Cornish?...nope, just a berk who thinks he knows more than he does.
After all that we were really looking forward to a relaxing break that had been planned since last year. We and 12 other friends hired a large cottage in Glenelg across the water from the Isle of Skye for a week at the beginning of May. It's an absolutely fantastic cottage in a superb location for scenary and wildlife. I take no hesitation in recommending it.
Creagan Mhor Cottage
.
During the week we spent there, I took time out to do quite a bit of photography. I probably put 700+ miles on the car for that alone. I think the highlight was a day trip to my favourite part of the British Isles, the Assynt region of Sutherland in the North-West Highlands. It's a 2 hour drive from Glenelg, on a good day, but the day I chose (Thursday 10th May) was attrocious. A mid-Atlantic storm had crossed the British Isles from the South-West and was hanging around over Central Southern Scotland, extending it's reach beyond the mainland to the North-West. Throughout the morning I kept checking various weather sites, looking for updates to radar and satellite images just hoping the cloud and rain wouldn't extend much beyond the mainland...I had a plan. Lunchtime came and it was a 20% gamble that the conditions I favoured would prevail, so I set off in my car to head North. I needed to check that there were blue skies to the West, so I headed over the Pass of the Cattle, initially through driving rain and then snow (!!!), over to the Applecross Peninsula. Sure enough, despite the weather overhead, out on the horizon there was a distinct slither of blue sky...perfect. A quick pit-stop for some rather splendid Fish and Chips in Ullapool, and by 6pm I was at the foot of Stac Pollaidh, and the weather was grim. I still had a plan though, and a little faith, so I set off up the 400m or so climb around to the back of this particularly fine hill. The light was dull, there was a spot of moisture in the air and the sky was a flat grey, the landscape not much better - oh dear. So, all I could do was wait.
You see out to the West, that small slither of blue wasn't quite so blue as it had been earlier in the day. It was still blue of course, but now it had shower clouds passing in front of it, potentially there to ruin the moment I was waiting for. I'd also got my timings a little wrong. I figured I'd have to wait about 30 minutes for 'the event', I was out by a country mile. Standing around with your camera set up ready to fire can be quite a boring existence, especially when you've left your warmest clothing layer back in the car. For the first time in a long time I had to resort to the bothy bag for some shelter from the cold air and wind. A couple of RAF Eurofighter Typhoons provided some entertainment for a few minutes, having a dogfight with each other out to sea, and then over land between Stac Pollaidh and the infamous Suilven, but all too soon they got bored too. Maybe it was my bright red jacket they picked out in the dullness of the light, but they saw fit to do a rather splendid flypast just for me before they headed back to base - shame I had the wrong lens on the camera, it looked like I'd missed the best shot I'd get all day.
Now, back to the plan. Well, I figured that at some point the Sun was going to decend under the blanket of grey cloud way out west, probably about 20 minutes before it was due to set at 9.30pm. You are well into the golden hour at that stage, and the sun can sometimes lose it's lustre and potential for 'lighting up the landscape'...and those shower clouds were making the prospect of 20 minutes to be more like 2 minutes or none. All I could do was wait and wait and wait...until...
Did I ever mention the weather never seems to favour me? I've got a bit of a reputation within the walking group I sometimes frequent - Washout Whitton, they call me. The same can be said for some of my photography trips. No matter what the weather man says on the TV, there always seems to be a shower cloud that follows me.
Ah yes, back to Stac Pollaidh. I think I then had what can only be described as my first ever photographic euphoric moment. This happens when you've spent hours doubting yourself, doubting that the weather will actually comply, doubting whether what you see in your mind's eye will ever come true...and then it does, but way beyond what you could have hoped for, way way beyond. The Sun, bless it's cotton socks, emerged very gradually from above the grey sheet of featureless cloud, with no shower clouds blocking it's rays (at least not over me) and shone an almost magical light across the landscape. The cloud turned almost a shade of blue and orange, the landscape glowed red on the Mountains (except Suilven which remained almost ghostlike in shadow) and the rocks around me radiated warm hues of orange, red and yellow. It stayed like that for about 5 minutes as I ran about with the camera and tripod, almost hysterical with delight, and no sooner had it appeared, it dropped below a distant Weather Front taking its magical light with it.
I got a few images from that shoot, two of which are below.
This one is looking out to sea toward the Outer Hebrides, demonstrating just how little a gap in the clouds there was, and therefore how lucky I was.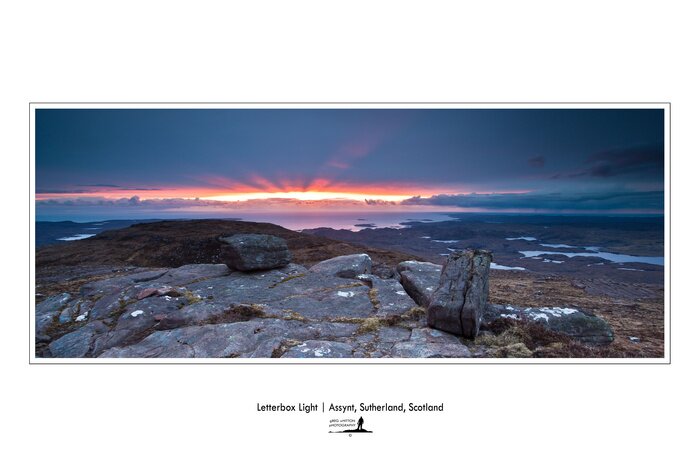 This next image is my favourite from the whole trip, showing a well lit foreground, and the peaks of Cul Mor (on the right), Canisp (centre in distance) and Quinag (on the left in the far distance) lit up by the Sun, whilst Suilven remains covered by shadow from a distant shower cloud.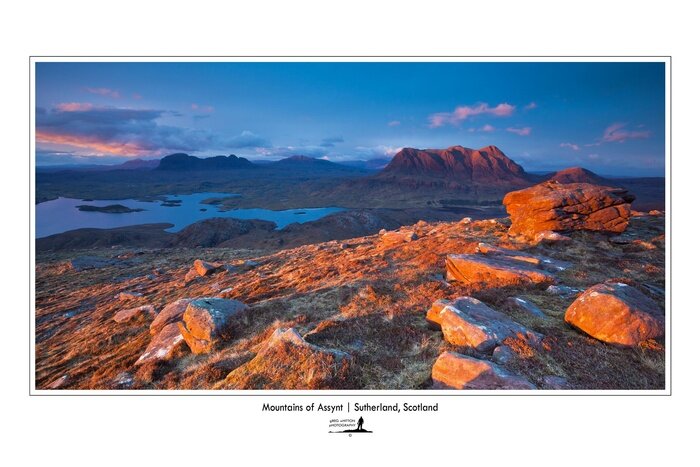 The others can be seen in my new portfolio which shows off my Latest Work, along with other photos from the trip. Take a look and let me know what you think. Trying to decide whether another trip up there sometime soon will be worth it or not. Cheers.