2013 Review
07th January 2014
Apologies, the website is in a bit of disarray currently, I've removed some images, moved others and not yet uploaded most of 2013! This will not happen again in 2014, I promise to keep things a little bit more up-to-date, however, first of all I need to get the house in order for what turned out to be a rather good 2013.
Perhaps the most important thing that happened in 2013, after of course spending time with my wife on honeymoon (blog on that soon) and buying a house, was becoming more active on social media specifically with the aim of broadening my photographic horizon. The main platform for this was Twitter (@Mountainman76).
There is a huge community of photographers on Twitter, most I interact with are UK based, but some are International, and we share everything we love about photography from locations, techniques, images to just plain old good banter. It has been a great learning platform and it is good to get helpful feedback from seasoned pro's and fellow enthusiasts alike on what works and what doesn't in an image. A lot of the guys (and gals) on there write their own informative blogs expressing detailed knowledge from processing techniques to gear reviews. A part of me would like to get in on that act but truth be told I don't think I have anything new to add in that regard, there are folks out there far more knowledgeable about these things than me and most of it has been written before. I'm far happier to keep learning but I chip in when I feel I have something to add, even if it is only humour.
10 Favourite Images by other Photographers
It is only fair that I share with you my 10 favourite images posted in 2013 from folks I know on Twitter. I've already done this on that platform, but just to keep things together here they are, in no particular order and with an explanation for each:
Click the titles to link to the image.
1.
The Viewers by Terry Gibbins
Terry is a London Cab driver who moonlights as a photographer. He has similar views on the use of Twitter as a platform to develop photography and apart from that he is a thoroughly nice geezer who I've had the pleasure to meet a number of times this year. This image was taken at the British Museum in London, a wonderful destination for any photographer interested in Architecture. It is such a simple image in many ways, I love that line of the handrail bisecting the image. When I look at it I can't help but wonder what the two people are thinking as they stand their looking at the inscriptions on the wall.
2.
Loughton Camp by Nigel Morton
This image was highly commended in this years Landscape Photographer of the Year competition and was the judges choice of Colin Prior (more on him later). Created as a panorama by stitching a number of images from a Canon 450D it is wonderous on the small screen and even more so in real life when blown up to 5 1/2 feet wide! Not to take anything away from the winner of the competition, many people I've spoken to felt this image should have won overall, I was one of them. The competition kind of lost it's way a little in recent years and courted controversy in 2012 when the winner was disqualified for over manipulation of his image in the Classic View category. A wholesale change in judges for 2013 meant that images like this got shortlisted and eventually got the recognition they deserved...I do believe this image was submitted in 2012 and was overlooked then, a minor crime in my opinion.
3.
Incoming by Duncan Fawkes
Duncan took this image a few years back on a visit to Australia. He posted a wider version of it that also included some sky on Twitter this year which caught my eye. I've become quite interested in 1:1 crop in recent times and I saw this at the height of that interest. I suggested to Duncan that he re-crop along these lines to exclude the sky and create a far more claustrophobic image and the result is this, I for one love it. The credit is all Duncan's but this image just goes to show how just cropping in post-processing can totally transform the effect an image has on the viewer and how collaboration on ideas can help fellow photographers.
4.
Sunset on 5th Avenue by Valda Bailey
Valda is very rapidly becoming THE master of ICM (Intentional Camera Movement) and ME (Multiple Exposure) in-camera technique. Her Canon 5DmkIII allows her to take a shot and overlay it with another and another in camera (not in post-processing). Combining this with a spot of ICM means she creates some wonderful dreamlike images, they almost look like paintings. This particular one seemed to garner the most positive praise by folks online and I have to agree it is quite magical.
5.
Born to Fly by Russ Barnes
Russ shot this image right at the end of the year. It is all too tempting with landscape to take shots at the wide end, but that just doesn't work very well in dense woodland (as I've discovered). Russ used a 70-200 lens here and in doing so was able to layer and separate the image to make the single tree really stand out against the background. Apart from being technically a really great image, the composition is fantastic. There really isn't much else I can say, it just works and I love it.
6.
Border Towns Burn by Andy Gray
I had the pleasure of meeting up with Andy back in November up on the Northumberland coast where he lives. Andy is very much a post-processing type of man, he loves to spend hours working on an image in post-processing to create something that really pops. That is not to say he doesn't get a shot right in camera, he is more than capable of that, he just likes to create what some would perhaps call art. He has been experimenting with ICM and ME much like Valda Bailey and this is one of his efforts from the later part of the year, taken in Berwick. Quite similar in some respects to Valda's shot above, I think Andy's is different enough to warrant a spot in my favourites in its own right.
7.
Wind Blown Tree by Robin Hudson
Robin is quite new to the scene on Twitter, but his Flickr feed shows he is a salty old dog when it comes to photography. I really do like his work, he shows great thought in almost every image from his travels. This image stands out to me. He posted it about the same time every man and his dog was shooting at Padley Gorge in the Peak District in Autumn. After a while each image seemed to begin to blend into each other, it was autumn tree overload...and then I stumbled across this and I actually thought it was incredible, not sure why, that was just my thought. Dav Thomas is kind of the master of trees right now and this images was the one that I thought could compete easily with Dav's, I can't give higher praise than that.
8.
Parkhouse and Chrome Hill by Steve Tucker
I've spent a lot of my time over the last 5 years in the Peak District. I've walked over these hills many times in all weather, but complete snow cover evades me (except for one notable walk around Bamford in 2010). When I think of the Peak District and photography this is the image that I want to capture in my head, and Steve got there first, I'm gutted, but at the same time think this is a cracker and Steve deserves the commendation he got in Landscape Photographer of the Year for it.
9.
Orange by Finn Hopson
Finn shoots almost exclusively around Brighton and the South Downs. His imagery from this area is magnificent and he is a case in point of using your knowledge of the local area to your best advantage. To be honest I could have posted at least 10 of his images from this year in this list, but for me it is this one shot in Dorset that stands out. Colmers hill has been shot hundreds of times by a myriad of photographers, but this shot to me explodes off the screen. I'm a big fan of silhouettes and sunsets as it is, but the vivid colouring here take this to another level. Every time I see it it reminds me of warmer times.
10.
Light and Shadow by Duncan Fawkes
A second entry for Duncan, it has nothing to do with the fact he bought the first round when we met up at the Landscape Photographer of the Year exhibition ;) But, truth be told, if I had to pick an absolute favourite from the year, then this would be it. I love this part of the Scotland, in fact it is my favourite part of the UK and maybe the World, well at least the parts I've visited. I've shot from this spot on a number of occasions myself, but I've never been fortunate enough to get such changeable conditions as Duncan had, it's a photographers delight. Suilven all dark and brooding under the heavy skies and the warm side lighting together with a rainbow just demonstrate the contrasting and wild conditions that match the overall landscape here and I think that is what I love about it, everything about it says Scottish Highlands to me, the landscape, the elements, all mixing together, intrinsically linked. The only way it could be improved (IMO) is if there was a dusting of snow...which is why there is still reason to go back and shoot it again.
So, that is that, my favourite images I first saw in 2013 (not all shot in 2013). There are some notable photographers missing from that list that deserve a mention, the likes of Richard Hurst, Stephen McGill, Alex Nail, Lizzie Shepherd, Aaron Yeoman, Mat Robinson, Andrew Atkinson, David Baker and numerous others have produced images that I look at in wonder and draw inspiration from. Keep up the good work folks!
I should also give special mention to David Breen. Back in the summer I offered to do a little piece of work for him as he took steps to become a book publishing magnate. In return he kindly offered me a spare ticket to the private view of Landscape Photographer of the Year in London which was a great event and he also sorted me out with some replacement filters and a filter holder I accidentally broke during a shoot, none of which come particularly cheap. Thanks Bud. The first books his fledgling company has published are
With Trees
and
Seafever
both of which are cracking and well worth purchasing.
Competitions
I started entering the odd competition this year having only previously bothered with Landscape Photographer of the Year (1 shortlisted entry in 2012). I tried that one again this year but missed out on any getting shortlisted, I think my entry got lost in the system somewhere ;). However, I did win a couple of comps during the later half of the year. I won Photo of the Month for Light and Land on their facebook page back in October with my image "Hole in the Wall" below. I won a place on a one day workshop sometime in 2014 for that...which reminds me, I need to book it!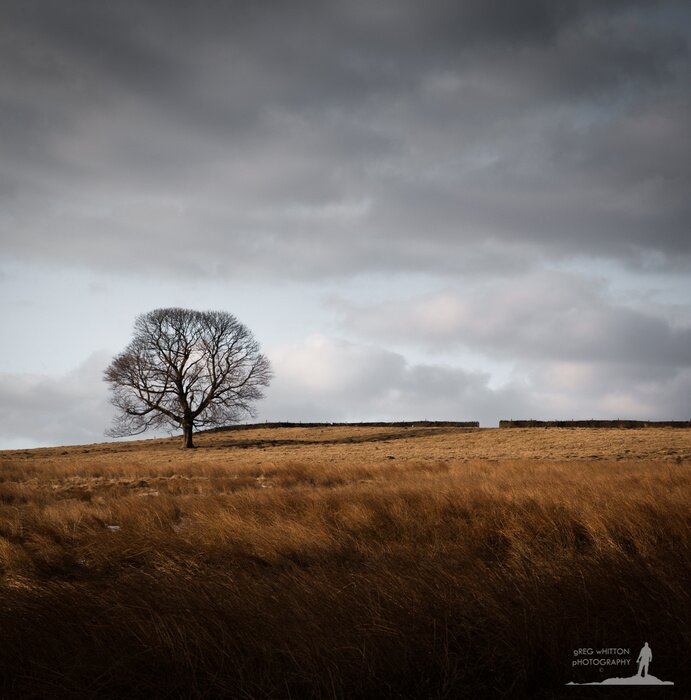 I also won a competition in December for Outdoor Photography magazine in association with Lowepro. They were offering an exclusive workshop in Glencoe in February with Colin Prior (one of the foremost Landscape Photographers) as well as a Lowepro backpack. My image will be featured in the February edition of the magazine and I will be attending the workshop along with two other entrants in two other competitions. My winning image chosen by Colin Prior was "Last Light" below.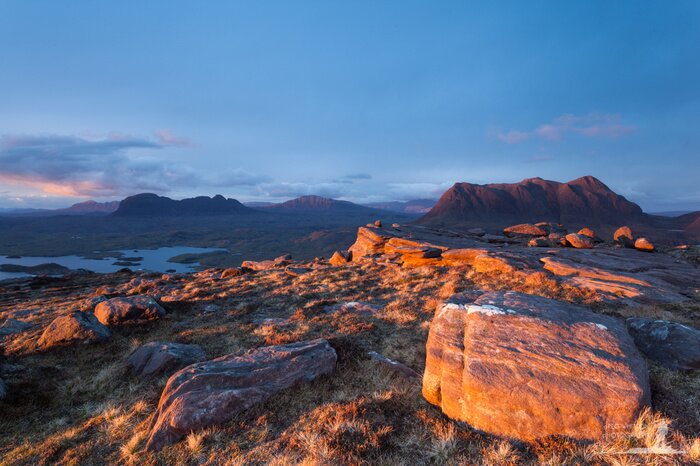 To add to that in December I placed 3rd in a competition for Theprintspace a print studio and gallery, for my image "Torridon - The Valley of the Lost (Reloaded)". I win 3x prints, some paper and a blog feature on their website.
My Favourite Images by Me
Actually this is quite hard, I want to only pick 3 but I seem to have done quite a lot this year, Namibia was a highlight of course, but I've climbed Germany's highest Mountain, shared great times with friends in Scotland, the Lake District, and Snowdonia, done some great walks, even scored a touchdown in one of my last games for the Nottingham Caesars, as well as spending some time shooting the odd image. So, here goes, in no particular order:
1. Twins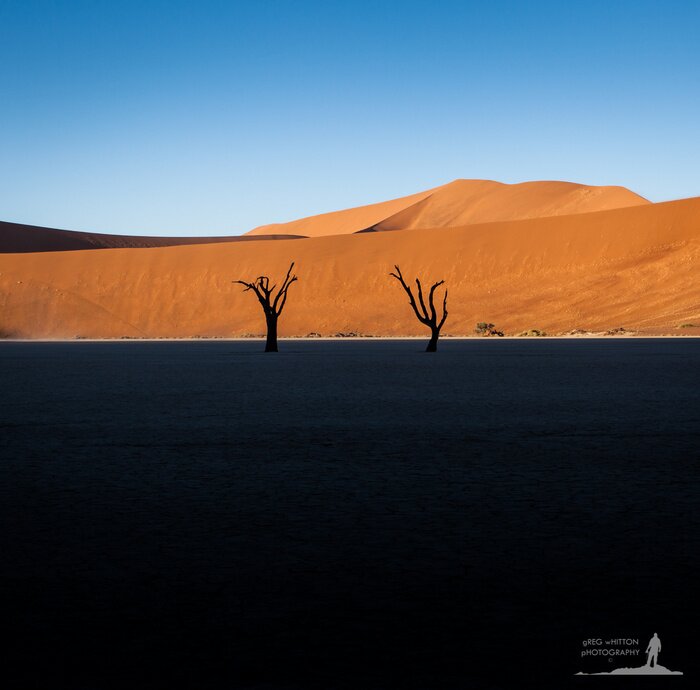 Shot at Deadvlei in Namibia these trees are on almost every photographers bucket list. They've been shot in all conditions and all times of day, it is so hard to be original. I wouldn't say my shot is original, but the stark contrast between shadow, the orange sand, the blue sky and the 1:1 crop makes this a particular favourite for me.
2. The Source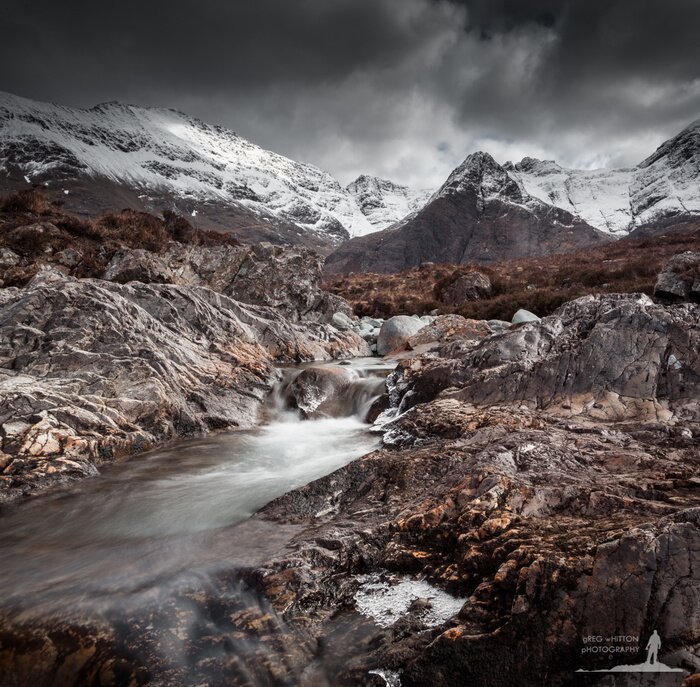 Shot on a trip to Fort William back in March, a friend and I set off at 3am to reach Elgol on the Isle of Skye for sunrise. The sunrise itself was nice, but with no cloud at all in the sky it did not make for a great photo-shoot, Alpenglow on the snow-capped peaks of the Black Cuillin was as good as it got. By the time we got around to the other side of the mountains to the Fairy Pools in Glen Brittle (via a hearty breakfast)
the cloud had begun to role in. This was one of the last images I took and for months it sat on my hard-drive, it didn't quite pop. I then started experimenting with selective colour toning in post-processing. Some small adjustments to the blue and red channels made huge differences to the tonality of the image. This went from being flat and uninspired to bringing out an almost metallic look in the rocks. Using a 1:1 crop again, I am really pleased with the result.
3. God Ray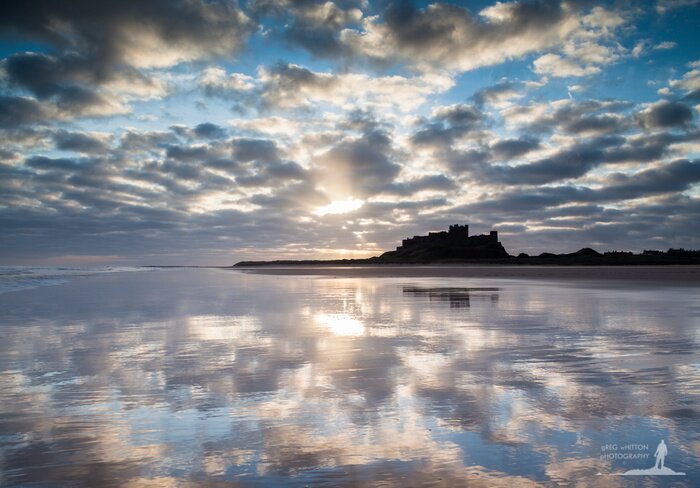 Following one of the most uninspiring sunrises I've ever had the misfortune to witness (wasn't quite worth sleeping in the car for), Andy Gray, Paul Kirby and myself were heading along the beach at Bamburgh to shoot a wreck that had only been uncovered in recent years when this huge ray of light burst through the clouds. Noticing the potential for a half decent reflection in the withdrawing waves I told the others to stop as I ran towards the sea, planted my tripod (camera and filters already attached as I was being lazy carrying between locations), composed and fired, all in about 10 seconds before 1. I got hit with the next wave and 2. my tripod sunk ruining my composition. The result was this, which was worth suffering the tuts of disapproval from the other two as I made them wait.
Quite a year in many ways, new techniques, new friends, new possibilities, hoping 2014 will prove to be even more exciting!